Priests:
Very Rev Dean Peter Bickley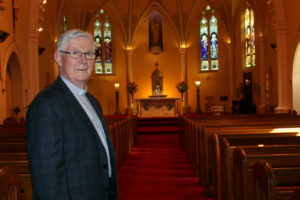 Assistant Priest: Fr Jithin Anto. Mobile 0490 364 751

The Parish Office:  Our office is in the presbytery, 47 Foster Street, Sale.
Postal address: PO Box 183 Sale Vic 3850
Clare O'Brien is our parish secretary and is available on Monday, Tuesday, Thursday and Friday from 9.30 a.m. — 4.00 p.m.
Mark Durrant is our Business Manager and is in the office on Wednesdays from 9.00 a.m. — 3.30 p.m. Phone 5144 4100.
Parish Pastoral 2020918 PPC membership: (click here for details)
Fr Peter Bickley,  Cijo Kuriakose (Chair) are members of the Parish Pastoral Council. (More information soon.)
Photos of our Pastoral Council members are displayed at the back of the Cathedral and in the churches. Please feel free to approach any of them for information about our parish to make yourself known or raise an issue in the parish.
Parish Finance Committee: Nick Lee chairs this group which oversees the finances of the parish  – He can be contacted through the Parish office on 5144 4100.
Collections and the Planned Giving Program: In our parish the first collection meets the needs of the parish. The second collection is for the support of the priests. If you would like envelopes for the Planned Giving Program please contact Clare or Mark at the parish office, 5144 4100.
Adoration Chapel: Is closed currently until further notice. Situated at the rear of the Bishop's House. Open 24/7. Contact the Parish
office during working hours for a Key Card. Deposit $5.